24-hour service available in case of emergencies. Contact us now for a professional, efficient and affordable service.
Countywide Drains Ltd
Countywide Drains Ltd is an Irish owned, family-run business situated in Dripsey, Co. Cork and serving customer throughout Cork, Kerry, Munster and beyond. We offer a certified waste disposal and treatment service to customers in the domestic, commercial and industrial sectors and have been providing these services for over three decades. All staff at Countywide Drains Ltd have received extensive training and possess the relevant training certificates required to carry out our work i.e. safe pass, manual handling and confined space entry. As well as offering pipe unblocking services, we provide pipe relining services, drain CCTV surveys, drain cleaning services, pipe relining services, and diagnostic services. For a high-quality, professional drain service everytime, get in touch with our team today.
Septic Tank Cleaning

Drain Unblocking

Drain CCTV Surveys

Pipe Relining

Pressure Testing

Bio-Treatment Units Services

Septic Tank Sludge Removal

Emergency Drain Services

Drain Repairs

Drain Maintenance

Drain & Pipe Fault Finding
Septic Tank Cleaning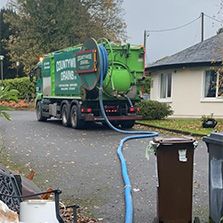 Countywide Drains Ltd offers professional, efficient Cork septic tank cleaning services across all of Munster, including the removal of primary, biological, and digested sludge and 24 hour emergency septic tank cleaning services.
Drain Cleaning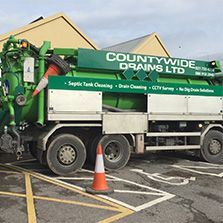 If you're looking for expert drain cleaning & drain unblocking services in Co. Cork, look no further than Countywide Drains Ltd, with professional drain unblocking, cleaning & CCTV survey services available.
PIPE RELINING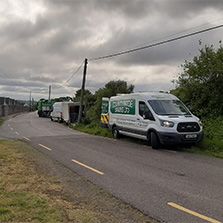 If your drains are leaking or damaged, Countywide Drains Ltd can help. Our professional pipe relining services are a cost-effective solution to professionally repair your damaged pipes without having to completely re-install them.
PRESSURE TESTING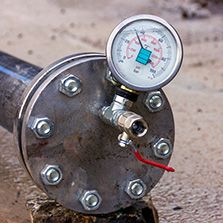 Before buying a property, pressure testing is a fantastic way of ensuring that the plumbing & drainage is up to scratch. We provide pressure testing services for all types of property in Cork.
For fast and efficient Septic Tank Cleaning and Drain Cleaning Services contact Countywide Drains Ltd. We operate a 24-hour service in case of emergencies.
Health & Safety
Countywide Drains Ltd are dedicated to ensuring a safe and healthy workplace for both our employees and our customers. We aim to adhere to all relevant statutory requirements and have prepared our safety statement in accordance with all relevant health and safety legislation.
It is our policy to ensure all employees, contractors and visitors are aware of, and adhere to, their health and safety obligations whilst at our place of work. These obligations are highlighted in our safety statement which we can make available to all customers, if required. We communicate our safety standards in a clear and concise manner so that everyone is fully aware of their responsibilities under our health and safety statement.
In What Areas Do Countywide Drains Provide Their Drain & Septic Tank Services?

Countywide Drains offer our services to clients throughout Cork, Kerry, Munster and the surrounding areas. All services are carried out by our team of fully qualified, highly skilled tradespeople.

Do Countywide Drains Clean All Types Of Septic Tanks?

Yes. As specialists in septic tank cleaning, we can effectively clean septic tanks of all sizes for clients in the residential, commercial or industrial sectors.

There's A Problem With My Drain But I'm Not Sure What It Is, What Should I Do?

If you have a drainage issue but are unsure of the source of the problem, get in contact with Countywide Drains Ltd. Using our innovative CCTV inspection system, we can accurately diagnose all types of drainage issues and offer an appropriate remedy.